Think about it. When's the last time you actually noticed your bedroom or bathroom door?
That's why they're perfect for a little customizing and personalizing — so you will notice them. Plus, they're a great way to enter the world of home improvement. Their small, flat square footage is a breeze to work with. (And you can pull the door down for easier DIYing.)
And if you goof it up (not saying you will), you really haven't hurt your home's value because a door is easy to replace.
Here are seven ideas to consider:
#1 Fancy Trim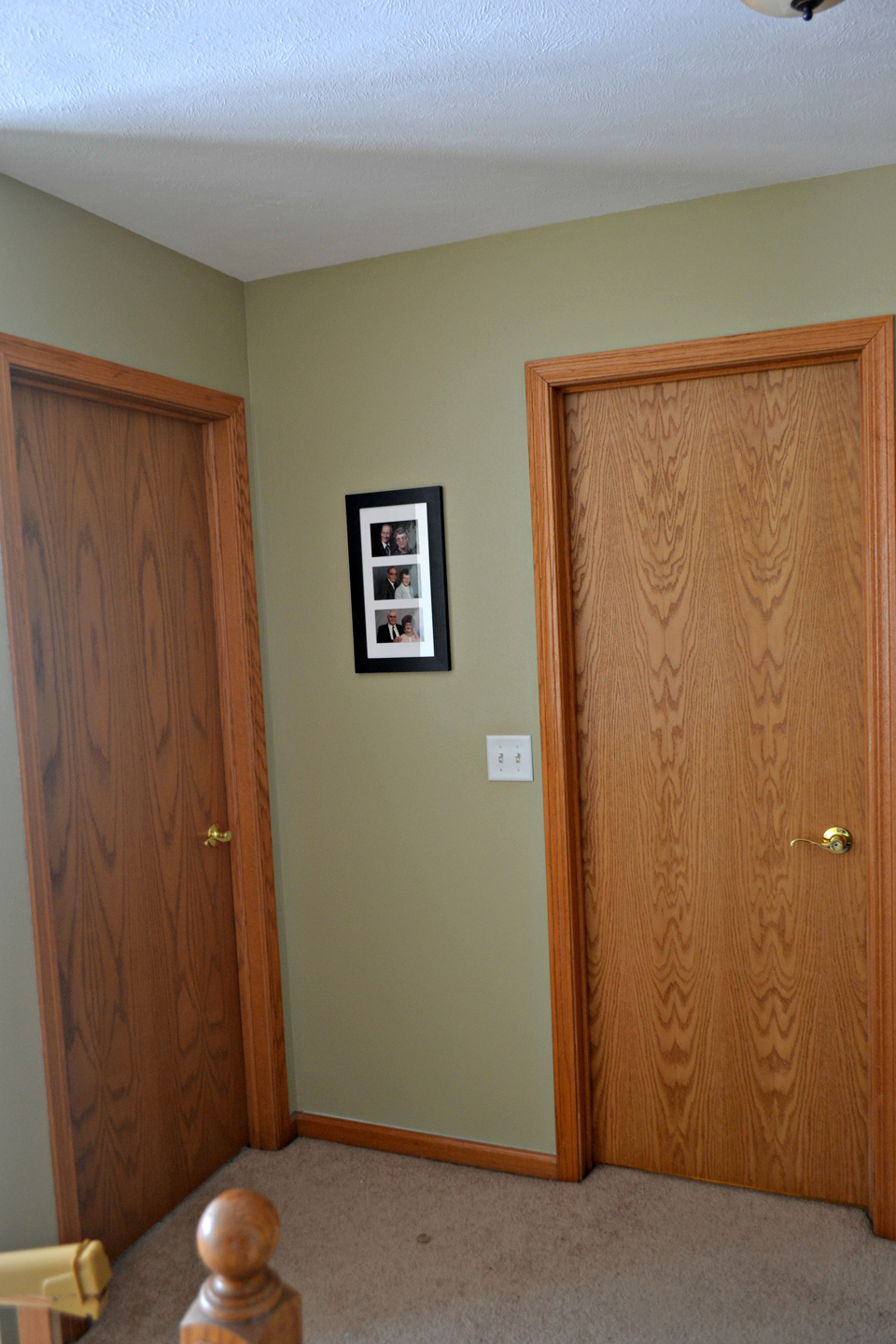 Image: Sherri, Thrifty Artsy Girl
Plain, hollow doors can be a yawn. But a little well-placed trim, along with a coat of white paint, gussies up a dull door.
So simple, so sophisticated, and such a home-value boost . Don't forget to spruce up the hardware, too.
#2 Faux Stained Glass
Glass doors are great. Stained glass doors are OMG-so-great. And pricey. And a long-term color commitment.
But you can get the stained glass look without tapping into your firstborn's college fund with stick-on colored film. While it takes some time, patience, and attention to detail (and directions!) to pull off a quality job, it's still a breeze compared to the real deal.
Plus, you can remove it or swap out colors on a whim.
#3 Wallpaper
Don't let the "wall" in limit your imagination. We especially like this solution for rooms that are a few notches down on the renovation list, but could use a little pick-up pronto.
The easiest way is with no messy glue. The wallpaper on the door below is temporary. Easy to change if you change your mind.
As actual wallpaper, though, this bold pattern could overwhelm the small hallway (and killing your home's first impression). Limited to the door, it adds just the right amount of character to the space. Just cut and stick.
#4 Bee-Like Chevron Stripes for a Kids' Closet Door
Kids' rooms often teem with color, so why shouldn't their doors? These lively stripes were pulled off with the careful placement of inexpensive painter's tape.
To replicate, make sure the tape is sealed and flat so no paint will seep beneath while you work, and remove the tape when the paint's still a bit wet for crisp lines.
#5 Bold Color (on Just One Side)
This homeowner decided to go for the gold, and it paid off. Light neutrals can help a room feel larger, making them a smart move for small spaces like bathrooms.
A painted door can be a just-right infusion of color that adds interest and balance — without undoing the size-boosting effect of the light color scheme. (And you don't have to paint both sides.)
#6 Bifold Doors
Bifold doors aren't known for their beauty. Their role is more about allowing you to access closets that are super close to the bed.
But you can give those ho-hum clothes hiders a custom look with and some paint.
If you measure carefully, you could probably knock this out in an afternoon.
If your bifold closet doors are cramping your sophisticated style, don't yank 'em out — teach them French. Just make sure the room is big enough to accommodate a wider swing.
All it takes is a steel bracket atop the hinged portions to turn bifolds into elegant French doors.
Add some trim, fresh paint, and new hardware, and no one need ever know of their humble origins.
#7 Tape and Decals
No tools needed.
Washi tape is the perfect way to turn the inside edge of your door into a moment of joy. The paper-based tape can be moved, removed, and reused several times before the sticky fails — and it comes in so many colors and designs.
It's a fast, cheap, fun way to let your door be the one to make an entrance.
Or buy pre-made vinyl cutouts. They come in just about every shape and theme that exists.
For maximum satisfaction, test the stickers on a small area before committing to the full look. Some decals don't stick as well to certain surfaces, like glossy or premium paint.