Unless you get an unusually deep thrill from doing calf exercises, climbing your staircase is typically more about function than fun. But a little DIY can change that (and maybe boost your home's future desirability).
These eight DIY staircase projects can get you started.
#1 The Look of Tile Using Stencils
There's no look as classic or as crisp as black and white — and no material more dignified than tile. You could take out a second mortgage to cover each riser in custom, monochrome tile, or you could grab some paint and a stencil for the same effect. But much thriftier.
If you have a longer staircase, consider following the lead of this homeowner and stencil every other riser. You want to delight climbers, not make them dizzy.
#2 A Rainbow on the Stairs
If you love color, why choose just one? This soothing spectrum adds interest to an otherwise neutral space, and the pastels keep the effect soft, so it doesn't take away from the soft, farmhouse aesthetic.
With the natural light from the window above the stairs, this look is like a constant ray of sunshine.
#3 A Pretty Pattern With Chalk Paint
You can like the idea of a personalized staircase without needing it to be the focal point of the whole house.
This soft, subtle look was pulled off with chalk paint and a stencil. The pretty pattern is unique enough to feel custom, but the light colors and chalky finish prevent it from overpowering the room.
And here's a tip for any time you're painting a staircase: Consider leaving the banister unpainted for a nice pop of contrast.
#4 Ombre Effect Going Up the Stairs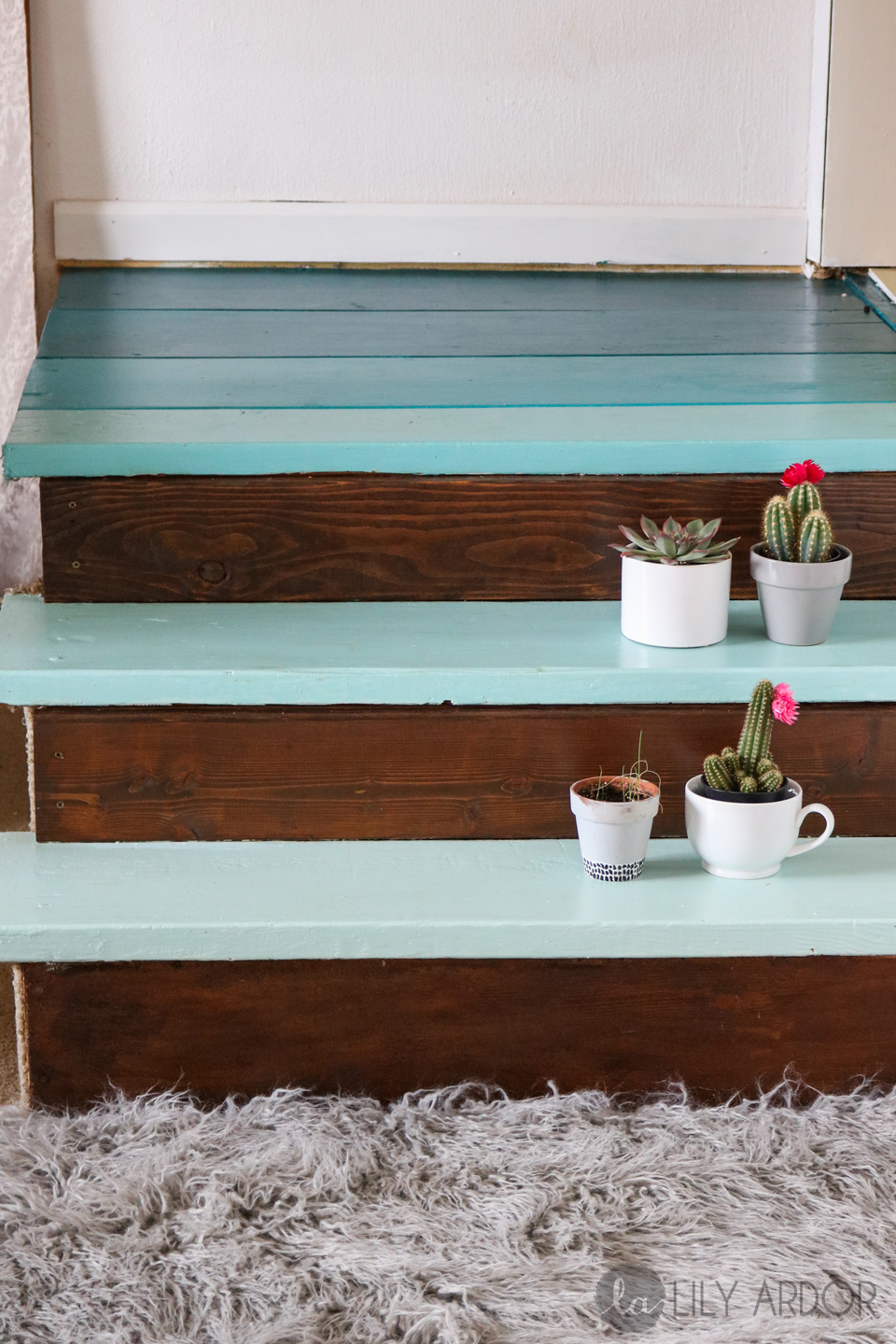 Image: lilyardor.com
A short set of stairs can be the perfect place to try an ombre look (if you haven't read a design magazine in the last decade, it's a progressive shading effect).
The homeowner who did these stairs recommends starting by painting the darkest shade first and gradually going lighter and lighter by adding white.
Make sure you make each batch large enough to cover a full step — and all the necessary coats.
#5 Classic Black and White (With a Useful Chalkboard Wall)
Another classic black and white pattern, along with a chalkboard wall, gives this short set of steps a modern, inviting update.
This DIYer used painter's tape and a v-shaped template made of foam board to prep the chevron pattern — and paint, patience, and very slow tape peeling to execute it.
#6 A Way to Show Off Your Reading Obsession
Have a specific obsession? Decals are a great (read: easy) way for your staircase to share your fandom.
Peel-and-stick decals can be customized with your choice of words or images. Bibliophiles can choose book titles like these, but thanks to the wide world of available decals, you can also find favorite sayings, patterns, characters — you could even create a "The Walking Dead"-themed staircase if zombies are more your thing.
When working with decals, just make sure to read the fine print. These decals, for example, are just the lettering of the book titles, so painting the risers is a project you'd need to take on first.
#7 An Eclectic Look With Real Tile
We'll say it again: There's just nothing like tile. It's incredibly durable — great for hardworking staircases.
Creating alternating sets of pattern and complementary colors on each riser makes for a one-of-a-kind staircase that's anything but redundant.
While trimming tile to fit stair risers might be above some DIYers' pay grade, this personalized look could be worth flagging down an expert to pull off.
Related: Gorgeous Ideas for Safer Stairs
#8 A Stair Runner Out of Floor Runners
Standard stair runners are as snooze-worthy as the stairs they cover. Don't settle if you can't find one that makes your heart dance.
One clever homeowner found a she loved, bought four of them, and installed them one after the other to make this wild look shimmy up the whole stairway.
It took some creative trimming and rug positioning to make this alternating pattern look seamless, so to replicate it, order more length than you think you'll need.